"Oh, what a hard thing you're asking me, an hour interview ain't enough to tell you the whole Death story, however let's try to do it in the most possible schematic way: it was 1983 when I formed Mantas. Then I was 16 and I was only a kid spellbound by the sound of bands such as Metallica, Slayer, Iron Maiden, Mercyful Fate, Exciter, Raven, all those bands that, in short, marked the metal scene in the 80's. Little by little, with heavy metal in the ears, I started to get actively closer to the music world. In the beginning with my first band, Mantas, with which we recorded some demos and all in all played for three years. In the meanwhile the band name changed to Death, a name with which we reached the long sought-after deal with Combat Records that allowed us to record the first album 'Scream Bloody Gore'. Although it was just the first LP, the work left us totally satisfied because we were able to publish an album that balanced lack of experience with instinct. The next album, 'Leprosy', was released in 1988, and was another step forward compared to 'Scream Bloody Gore'. It was a more heavy metal oriented piece of work and in some way more melodic compared with the debut, this also because of our new producer, Dan Johnson, who already cooperated with bands like Savatage and Crimson Glory. The success of the new album allowed us to play in Europe too. When we guitarist Riki Rozz was dismissed and with James Murphy entered the band. With the new line-up we started to work on our third disk, 'Spiritual Healing' which, released in 1990, showed a very good line-up, with, besides me and James Murphy, Terry Butler on bass and Bill Andrews behind the drums. The extremely clean production of that album and some melodic tracks make it a record of which I'm really proud of. Yet it created problems with early Death fans that found it difficult to relate to those songs, although the original rage didn't change… The fourth effort, 'Human', was our most technical, most experimental, most aggressive, in short the most complete work, and I think it was also the most appreciated one by our fans. 1993 marks the release of 'Individual Thought Patterns', the album with a line-up that to say the least is phenomenal: Gene Hoglan (from Dark Angel) on drums, Andy LaRocque, King Diamond guitarist, and Steve DiGiorgio on bass guitar. What was released is a great work, a special work, an album that meant the band's growth, full of experiments, in short a really crazy album! Then came 'Symbolic', with this album we changed to Roadrunner. This record also offers the good things already seen from the previous one, a remarkable melodic line, a certain progressive element, a line that more and more evolved into classical metal. Unfortunately, 'Symbolic' was released in a period in which metal seemed dead, at least in America, and although the supporting tour was simply amazing, for me it was very hard to promote this disc in the States, because labels seemed to block it out, they were incredibly sceptical about heavy metal. Unfortunately for us, and our fans, obviously, 'cause it's really difficult to be a Death fan in a country like America where there's the tendency to eliminate all that is metal and 'Symbolic' was too "subversive" to be promoted. After 'Symbolic' I took a little break to reflect., I began to write new stuff for the next Death album, and in the same time I started to search for a new record company. I chose Nuclear Blast, the ideal label to release what I consider to be a fundamental record for my career."

About , your career. Are there periods in your career which you remember with pleasure?
"Definitely, in fourteen years there are many good moments and remembering them all is really a hard thing. Possibly the most beautiful and awesome moment in my career was during the making of "Individual Thought Patterns", when I found myself working with real fantastic musicians, some of them are really myths to me. Besides there was a climate of friendship inside the band, perhaps a climate that was never before in Death. Steve and Gene were certainly good musicians and besides there was Andy, perhaps my favorite guitar player. We were a real killer band and together we spent really special moments."
And is there a period you wish to cancel from your life?
"Here too there are a lot, but I don't want erase them, I want to take them with me forever, because life is made of beautiful and worse moments, and it's right to take them all with you, because also the worst things in the end help you, help you to understand life better and learn how to face it. I do believe in what I do, I do love music and know exactly what I want to do, so I keep on doing things my way, doing what I like, overcoming hard moments and trying to always see the positive side of all situations, I'll keep going."
Before the release of this album by Nuclear Blast, you offered the demo to many labels always receiving negative responses. How do you explain all the difficulties trying to get 'The Sound Of Perseverance' released?
"Perhaps because I never spoken to the right people! I really contacted a lot of labels, I sent my demo to many labels and it often was sent back to me. So I decided to wait, and what came out was a positive answer by Nuclear Blast. The label contacted me, they said they were interested in my new work and we began to call each other. We had several meetings during which I was assured about the seriousness of the label's intentions to promote the record. Only then I wanted to sign the deal, with what I think is one of the best labels in the metal scene. This is extremely important to me, because being backed up by a specialized label, that exactly knows how to deal with artists, gives you faith."
So you're convinced you made the right choice…
"Yes. Definitely. I'm really happy about what was done. Again, I believe Nuclear Blast nowadays is one of the best metal labels. So for what I wanted to do there wasn't a label that, in the end, could give me what Nuclear Blast gave me."
Let's analyze the new 'The Sound Of Perseverance'?
"Well, this album is a bit more technical than the former works, but I think you can find some classical elements of 'Individual Thought Patterns'. It's an album on which melody and aggression are fused. Of course, there are some extreme metal elements typical of Death, yet there are some parts that are the living proof that Death is a band with heavy metal roots but always want to show, in the end, something new and fresh."
How about this album's production?
"Jim Morris took care of the production, he already took care of 'Symbolic' so he already knew very well who he was dealing with. What came out was a very good product. I think Jim Morris is one of the best metal producers, an amazing person and a real professional in the studio, in short the ideal person to cooperate with us on our new album."

How do you explain the progressive development of your sound, leaving the beginning death metal for a more and more classic-metal orientated sound?
"I can't explain it, I think it belongs to the natural sound evolution of Death. When I start working on an album I always want it to be the best it can get. When I start anything, for that matter, I always want it to evolve in the best possible way. I think this also happened when I started a musical career, from the first album I always wanted to improve, always wanted to come out with a better disc and I think that's what Death have been doing up till now."
If you had to synthesize the essence of the album with just one song, which song would you choose?
"Without a doubt 'Flesh And The Power It Holds', a great song showing what the band is capable of at this moment."
About the lyrics, where did you find the starting-points to write the new songs?
"When I started to compose, I was always seeing with an eye of the beholder the reality around me and I always tried to tell about it and report exactly what I was seeing. When you think of the songs being like a big mouth that is able to talk to a lot of people, telling the facts to anyone listening to my music. I have to tell about reality as accurate as possible, so that it's represented well to whoever is listening to it."
In the spring you took part in Dynamo. What did that experience leave you?
"It was an awesome experience, an indescribable thing, it inspires great enthusiasm. There were indescribable moments, we didn't have much time to play but all worked very well, the organization was faultless and the technicians simply fantastic. And the audience welcomed us incredibly well, carried us away during the whole gig giving us great power. It was wonderful, wonderful playing, wonderful being there, yes, a special experience!"
continued

But which situation do you prefer, the little places or the big festivals like Dynamo?
"For both places the feeling is different. At big festivals the crew is wonderful, you only have to plug and play without worrying because you know it all will work well, yet at the same time it's very different to play for thousand people or thirty thousand. If you play in front of a big audience there'll always people that don't love your music, and the communication will be limited, while in little places those who come, come for you, the feeling that's created is something unique, the communication between the band and the audience is reciprocal."
I happened to read a statement by Steve DiGiorgio supposing a Death 'Individual thought Patterns' reunion. Do you think this will ever happen?
"A reunion? No, it will never happen! After that experience each of us took a different musical career, each of us entered a different band with which he has his own musical life now. So I don't think we oughtta upset all these projects for a reunion that, although ambitious, could hardly give the hoped results."
What are the reasons for all these never-ending line-up changes? There's no doubt YOU are Death!
"Because it's typical of an artist (laughs)! Ozzy Osbourne always changes musicians, so why can't I do the same? Joking aside, there are a lot of reasons for this continuous line-up change. There are people living in different parts of the globe, so working with them continuously is impossible. Others have different ideas about music than me, so if I wanna do something that I feel is really mine I'm always forced to change partners, everytime seeking those who interpret the music the same as I interpret it at that moment."
What is your relationship with those who play with you? Don't you seem a bit like a tyrant working this way?
"No, I don't believe so. The present line-up works very well together, all of them are real killer musicians and we have the advantage of all living in Florida and this is the ideal situation to create a certain feeling and make the relationship go beyond the simple work partnership."
Long ago you said your dream was to play in a classical heavy metal band with a singer like RJ Dio on vocals. Is it still your dream?
"Yes, basically yes. I think singers like Dio, Halford and Bruce Dickinson are the perfect prototype of a heavy metal singer. Like I told you, I grew up with classical heavy metal, so I'd like to play very much in such a band. But, as you can understand and hear, vocal wise I'm light years away from Bruce Dickinson, so I couldn't do the vocal parts in this project. However, vocal matters aside, I think the current Death line-up is a classical heavy metal band line-up, attitude wise and formation wise."
Everyone knows about your love for Kiss (Chuck takes care of real Kiss rarities, like the famous flipper and the table game, true '70s relics). What do you think about their reunion?
"Oh, it's like a dream come true! It's a dream, a thing I dreamed about for a very long time. I'm very excited about the idea to see them together again just one more time. I can't wait for their new album to come out, years have passed yet I think it'll be something special once again."
Death have been pioneers of a certain musical genre and a reference for many emerging bands. Now, looking back, do you think there's been a band able to follow your example?
"I don't know, but sincerely if had to be a band convinced to follow Death's foot steps, honestly I wish it was a classical heavy metal band. After all bands such as Kiss or Ozzy Osbourne contributed to my formation, and their music was pretty far from ours. So I'd like it to be a band that's able to catch our heavy spirit and make it their own, possibly taking suggestions to do something really new and awesome."
What's your idea, being around already fourteen years, about nowadays musical scene (change to "about today's music scene")?
"I think in Europe it is not bad, surely better than in the States. But in America we're overcoming the crisis that has been lasting for three years. There are bands able to explode and make heavy metal emerge again. You can't kill heavy metal, in America it is going to come back, and we'll try to help it."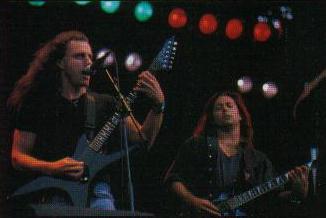 To wander off a bit…Among your cult bands you have cited Iron Maiden. What do you think about their new album and above all their new singer?
"About the new Iron Maiden record and the new singer? See, unfortunately I don't believe the new singer is worth Iron Maiden, the new singer is fssssssss (doing the whistling of something being deflated), absolutely not able to inflame the hearts of those who, like me, love the true Iron Maiden. Bruce Dickinson is one of the best singers of all time, a person with a unique charisma, a true killer, difficult to replace. I understand the situation Steve Harris was in during the change of singers, yet sincerely I didn't dig his choice. However I think Blaze will not last for long and Bruce will return to the fold, or at least I hope so!"

Did you schedule a tour to promote 'The Sound Of Perseverance'?
"Yeah, we'll be touring in Europe in October and we'll come to play in Italy too, I guess in Milan, then we'll return to America for the American tour that will take place in the months November and December. After the Christmas break we'll start again in January for a tour that will go through Japan, Australia, South America and then we'll be back home thinking of new songs."
For someone like you, who travelled a lot, and dealt with different kinds of audience, what do you think are the major differences between American and European fans?
"They're very similar, metal fans are linked by one passion, no distance can separate them. Music links all, it doesn't matter what language you speak or where you are from. If you listen to music you like, you'll find yourself linked to many other persons, music bonds all. Maybe the organization between Europe and America, yet basically the two types of audience are very similar."
To end…
"Thank you to all the fans for the support they gave us ever since the start and I hope they'll continue to give us after 'The Sound Of Perseverance' release. I respect the fans very much, because in some way I'm one of them, so I wish to ask them one thing: do what I do, keep on supporting heavy metal, don't limit yourselves to the trends, look back, 'cause good music and emotions are priceless".