I'd tell ya. The BIOHAZZARD dues sure get creative with their backstage artwork. i've seen complete murals on some of these dressing room walls where we've both played!
April 15 Trier "EUROPAHALLE"
Today, people back home in the U.S. are going crazy paying taxes, and here we are messin' around in Europe! Today also begins about 8 or 9 shows in Germany. It should prove interesting. See ya after the show...
I met a whole load of cool people today! All sorts of killer fans but especially Nica an Jason a couple of American kids whose folks are in the service. They bought me a bottle of Apfel Korn (Apple Corn), an absolutely rulling booze from Germany, so yeah, got a bit tispy. They had a few friends with them and we all just hung out all day and had fun.
April 16 Munich TERMINAL 1
This venue was crazy! It was a terminal of an old airport! We played this place two years ago, but I just learned today that this was the airport from the movie "Goodfellows" -which was a true story! Godly! "Goodfellows" is one of my favorite flicks! The show went killer! Man, Bobby (who is the first guy to get sick out here) and Kelly are shreddin'. The both are completely ruling and I'm glad they're with us! Each show is getting tighter, as we knew it would, and we're quickly becoming a well-oiled machine. "Yield while we Wield", dammit!... Poor Bobby is sick as a dog though. This was not a slamming crowd. It was a headbanging one! There was this huge cable running front the stage to the mixing board out front, thereby preventing a pit, so everybody banged! We went to a Rave after the show...Trippy.
April 17 Stuttgart LONGHORN
Ah, the Longhorn. A gigantic German country western bar. Go figure. I switched back to tennis shoes on stage. Those boots might be made for walkin', but not for drummin'! Hell, I'll get back into 'em, I just gotta get back into touring first. I made my first major screw-up on stage tonight. I read the set list wrong and started playing "In Human Form" instead of "Zero Tolerance" Thank god it started off with drums, so I kinda faked like I knew what I was doing. We were laughing about it after the show and Chuck said, "Wow, I was thinking to myself, "Bonus! Gene's wielding a drum solo!" Yeah right. Gene was wielding a big pile of stupidity!
April 19 Nurnberg ALABAMA
Well, how do I put this? History has shown me that Nurnberg, Germany is the one place on this planet that just happens to be a bad luck place for me. To make a long story short, some dude in his brand new VENOM shirt decides he doesn't like us, so he moves right in front of Chuck and proceeds to flip him off. Hell, that happens, but this is Nurnberg, so it looked like it was time to do some "regulating" from the stage. We don't care if you hate us, but if you decide to throw something at us -like this guy was about to do, I will personally kill you.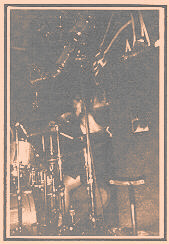 I alerted Evil Steve that shit could get ugly at anytime and before you could say "Welcome to Hell", this guy has so many pairs of eyes watching him,he should have charged admission. Uncle Danny and everyone who happened to be standing around backstage were ready to kill if needed. This guy was walking through hell with gasoline underwear! But no blood was shed, no dough was lost and everybody else was really cool, I'd say today was a victory!
April 20 Hamburg DOCKS
I tripped around the Reeperbahn and then I arranged to have my laundry done. Yippy. I would like to say that our catering gals rule! Linda, Ann and helen are all Gods! They have definitely looked after us and I feel they should be commended! As well as Subsy, the PA company's stage manager. He's ruling too. I will miss them all after this.
April 21 Berlin HUXLEY'S NEUE WELT
Ice cream day! There's this killer ice cream shop at this venue. We're kinda playing the central shopping district of this area, and the venue is connected to this mall sort of thing, pretty kooky. Berlin is a wild place, the most decadent party city in Germany. The whole DEATH clan walked around for quite a while looking for some grub -at a place that would hopefully take American Express, 'cause today lunch was on Chuck! But to no avail. Hell, srew the 'Party City' thing right then. I wished Berlin was the most American Express friendly city in Germany. Ain't gonna happen. The set now is totally stormin'! We're really loose on stage now, and that makes us thighter (what a dichotomy!) The shows are shreddin' and, as always, I wish this tour wasn't coming to an end the day after tomorrow. Ah, but at least we're ending in Poland!
April 22 Chemnitz KRAFTWERK
East Germany. A beautiful warm day. One step closer to Poland. We said goodbye to the catering ladies today. It was a tearful parting... There goes our guts. Also to Gorefest, 'cause Jan-Chris' wife is having a baby... good luck dudes!
April 23 Katovica SPORTHALL ENORMODOME
We have arrived! Ah, Poland! Plaing Poland always rules. The venue is great and the people are GOD! Everybody is totally into it here. They'll tear you apart if you get too close, but that's just 'cause they're an exited and starve for metal! I'll tell ya one thing, Poland is love. We've been told that as many as 10,000 people may show up, but I'd be happy with half of that! See ya after the show.
God, today ruled! It was this glant all day Metalfest, featuring bands from all over the world. It had already started by the time we got there, so when Kelly and I went out to get the first look at the crowd, there were already about 4,000 people there. Crazy! There were cops and Polish National Guard everywhere. There was this section with a barricade, so we could go out and sign stuff without getting killed -but it got real crazy, real fast. I was escorted by Uncly Danny and two national Guard dudes with guns! But after about ten minutes of autographin', it just got too out of control and the National Guard dudes made me go backstage because people were starting to get hurt. I spied a couple of girls who were just crying their eyes out and clutching and screaming and I thought, "Wow, it's like 'Beatlemania' and then before I knew it Uncle Danny was pulling them over the barricade.. because they were getting crushed!.. What a jerk I am! Super Uncle Danny to the rescue!
The show was cookin'... literally. Two years ago this was the first, and only place where I played in pantz and a long-sleeved shirt 'cause it was so cold. But today was nothing like that.. .it was boiling! We all definitely gave everything we had tonight. It was great! The crowd was still raging, even after about 13 bands had already played! It was so awesome! "Pull The Plug" was of course the encore, and I'll tell ya, I have never beaten my drums harder than that song tonight. If Zildjan saw what I put their cymbals through, they would absolutely freak!... Not one of 'em died! Amazing! Evil Steve was cheerin' at the whole carnage! major end of the world ending to the set! Judas Priest would've been jealous! Chuck jumped into the crowd -with his axe- (he's been doin' that a lot lately!) and the place went nuts! Poland rules! We can't wait to come back soon! We gave Poland a big wet kiss and wielded ourselves back to our bus and headed for home. Crazy tour... crazy, wonderful, memorable tour.. and after a 26 hour bus ride, and a 13 hour flight... we finally made it home.