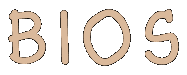 BIRTH DATES & PLACES
Chuck: May 13, 1967 in Long Island, New York.
Gene: August 31, 1967, Dallas, Texas. Send presents.
Bobby: September 13, 1968 in Newark, New Jersey.
Kelly: March 20, 1969 in Long Island, New York.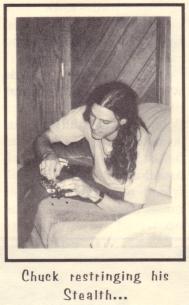 FAVORITE CHILDHOOD MEMORY
Chuck: Growing up worshipping Kiss and going camping, playing in the dirt road after school until dark, going to sleep and waking up in a pile of dirt.
Gene: My entire childhood.
Bobby: I have a trippy memory of falling off a slide and cracking my head open, then falling down a flight of stairs waiting for my mom. For some reason I remember that and I think, "cool".
Kelly: Playing different kinds of instruments in elementary and high school. Definitely playing, practicing all day without going to work!!!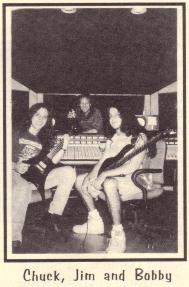 FAVORITE FOODS
Chuck: Hot and spicy wings -the ones that make you sweat, anything on the barbecue grill, chips and salsa.
Gene: Pesto pizza, Pastrami Burritos & Mom's Thanksgiving stuffing.
Bobby: Pizza, Egg Plant parmigiana, Mexican omelettes, a nice bloody prime rib still going "moo" and french fries.
Kelly: N.Y. pizza, the best in the world, pasta and my best friend, Mike's cooking.
FAVORITE PLACES TO HANG OUT
Chuck: The beach (Cocoa Beach), anywhere where there's a lot of trees and creatures running around, also at home playing music.
Gene: Any clubs that are jumping, but I love hanging out with friends.
Bobby: "The House of Bass", a house where a few friends of mine live where, between everyone, there's just about every instrument imaginable. many late nights jamming and partying have been spent there. Other than that, natural surroundings are cool: the beach, the woods. There's some cool places in Downtown Orlando, as well.
Kelly: In my bedroom playing bass.
AGE STARTED PLAYING INSTRUMENT
Chuck: Seriously at the age of 15. Nine months later got Mantas together. But I got my inspiration to play at age nine from hearing Ace Frehley (Kiss).
Gene: From what I've been told, age 0 (in my mother's stomach) but I got my first kit at 13.
Bobby: I started playing guitar at the age of fourteen.
Kelly: Eighteen.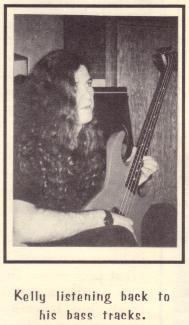 MUSICAL INFLUENCES
Chuck: Ace Frehley, Dave Murray, Adrian Smith, Yngwie, Marty Friedman, Michael Denner, Vivian Campbell.
Gene: Drum influences are: Peter Criss, Neil Pert, Brian O'Brian, Rob "Wacko" Hunter (Raven), Rob Reiner (Anvil), Terry Bozzio, Rick Colaluca (Watch Tower), Deen Castranovo (Wild Dogs), Steve Gadd (Al DiMeola), then Deen Castranova again. My musical influences are people whose music I like and respect- Queen, Black Sabbath, Angel, Al DiMeola, Seal, Dead Can Dance, Mike Jackson, Watch Tower, Jesus Christ Superstar (original Broadway cast), "Fiddler On the Roof"(London cast), old school thrash metal (i.e. Exodus, Possessed, Sacrilege B.C.) the list goes on.
Bobby: Here are some from early age to later- Angus Young, Ted Nugent, Gary Moore, Vivian Campbell, Yngwie, Al DiMeola, Paco DeLucia, Allan Holdsworth, Charlie Parker, Miles Davis, Jimi Hendrix, John Coltrane, Mike Stern, Pat Metheny, Sam Rivers, John Scofield. Believe me, there's many more.
Kelly: Stanley Clarke, Jaco, Randy Coven, Geddy Lee and anyone who's truly original.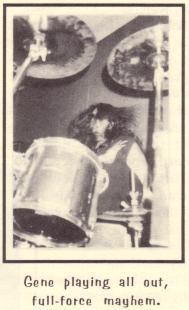 INSPIRATIONS
Chuck: I am inspired by the challenges of life, by seeing results in what we are doing and breaking out all my old records and still getting that feeling of inspiration.
Gene: I'm inspired by those who lead, rather than follow. By those who stay true to their vision, and don't pay attention to what other do. Believe it or not, Chuck is a big inspiration in that way. Brian Boru, King of Ireland one thousand years ago has always been a hero and inspiration to me. Evil Steve is an inspiring dude, as well.
Bobby: My biggest musical inspiration is John Coltrane, one of the best greatest sax players that ever lived. He was a chronic practicer with a tireless work ethic, yet one of the coolest, down to earth people ever. That's what I read anyway. Also Miles Davis, who was just the coolest. Never afraid to try anything different. I'm also inspired by reading biographies of the people I admire.
Kelly: Guys like Michael Manring, Gary Willis, Stu Hamm, Beaver Felton and Jeff Berlin.
HOBBIES
Chuck: Writing music and playing guitar, playing with my dogs and cats, cooking, working in the yard and watching everything grow, going to the beach and relaxing.
Gene: Sega Genesis and Mega Drive, and holding down couches that are trying to float away. I love clothes shopping, too, now that I'm skinny enough!
Bobby: My hobby is music, which just happens to be how I make a living. I love playing basketball, even though I suck.
Kelly: Martial Arts, running, drinking beer, and racquetball.
PETS
Chuck: My hippie-dog, Buster; my multi-blend dog, Heidi; my cat, Sassy; my new cat I saved from the pound, Harvest; my manx, M' Mew; a very nervous cat, Tigger...R.I.P. to Pierre, the originator of 'the bar'.
Gene: My cat "Poose" (pronounced POOus) is my life. I have another cat, Asia, nicknamed Booda and I have a Shar-Pei (y'know, those wrinkly dogs) named Beast, after the Possessed song, "Beasts of the Apocalypse".
Bobby: I have two cats, Miles and Wally and I take care of my landlord's dog, a white lab named, Whitey (original, huh?).
Kelly: none.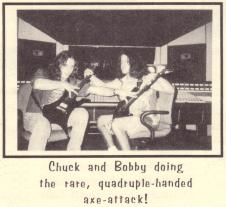 FUTURE GOALS
Chuck: To always go forward in music and never stay in one place without compromising sincerity. To see that dogs and cats someday rule the world.
Gene: To get down to my goal weight of about 230. I've lost 115 pounds so far and it has completely changed my life. Life is pretty godly now.
Bobby: My main goal in life is to become a great jazz musician. I'm still a metal freak, but learning jazz makes my metal playing better.
Kelly: To become proficient and truly versatile on the bass like some cats in jazz who solo over so many key changes and not miss a note!
A DAY IN THE LIFE OF:
Chuck: Wake up at 9.00, drink coffee - it must be black!, eat bagel and cream cheese, or maybe a bowl of Apple Jacks, hopefully catch an episode of "Happy Days", "Chips", or "Charlie's Angels", then I make phone calls and take care of some business stuff - get that out of the way, take care of some things in the yard (things in Florida grow at an outrageous rate), jam out for a while, eat lunch, try to catch the latest dirt on my soap, "The Young and the Restless", jam out some more, get ready to eat dinner around six or seven, watch some t.v., listen to some tunes, watch David Letterman, then maybe go for a little midnight jam session (that's when the phone doesn't ring and the dogs don't bark) then I eventually crash out.
Gene: Couches, cartridges and clubs. I get up in the morning between 7 AM and 9, go to the gym for two hours, come home, eat, then goof off the rest of the day, use the phone a lot, and rustle up something to do that night. Go out and rage all night, come home and do it again!
Bobby: I usually wake up around 12 noon, do stuff around the house (while slamming coffee) then go to my job as a guitar teacher, usually from 3-9 PM. Once get off, I come home and write or practice until around 3 or 4 AM. Then, I read for about an hour, then crash.
Kelly: My day consists of playing bass for many hours. Times are usually never set, just when I get to it. Also exercising, streching and things around the house-maintenance on cars, cleaning, laundry, maybe cooking, and SLEEP!