Close by at another hotel Maria and Suzanne from Relativity Records were awaking, and somehow knowing, that there would be no chance in hell that the guys would be on time. So they took their time...
Six O'Clock was the planned meeting time, although it was more like 7:00 as Maria had suspected. But finally the DEATH entourage, with coffee and McDonalds at hand, headed to ROCK SPRINGS, a natural spring just outside Orlando, Florida, for the filming of "The Philosopher" .
John Klausner and his crew from New York had been there for hours setting up... and getting attacked by ferocious mosquitos and trying to breath in the fresh Florida humidity. But, it was clear that they had everything in control. The Philosopher, the jester, the gypsy and the boy were all in charater and ready to resume their roll in this timely script.
Around noon, everything moved to... well... the middle of nowhere to record the live shots. It was a huge warehouse that was used for filming plays and other videos. A brutal storm had moved in and everything had to be closed up until it passed so it was a little warm during the recording (that's actually real sweat dripping off Cuck and Gene). When the band finished, it was then time to finish off the last stage scene with 'the boy' and 'the jester'. Enoch Taylor , 'the boy', was definitely the entertainment for the day. He kept the cool vibe flowing when things got a bit stressful. All in all, it was a very exciting day for DEATH, and proved to be a very successful as "The Philosopher" has played continiously on MTV.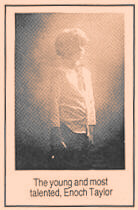 Thanks to all the fans who enjoy the video and write in requesting it. That has made all the difference in the world. And because of your undying support, a new video is presently in the making. Read on for more details.
GENE SPEAKS...
Hello everybody, Season's Beatings! I was at the DEATH offices last week, and I noticed that, while reading the mail, quite a few people were wondering "Gene, What's up with Dark Angel? Did you guys split up, or what?" Yes, sadly to say Dark Angel has disbanded. "Why?" you might ask? Well, in September 1992, my singer, Ron Rinehart, quit the band, and I really didn't want to start over and find a new singer. That coupled with the fact that Thrash Metal was dying a quick death, I wanted to explore some other musical landscapes. So, when Chuck called me up and said, "Why don't we give it a go?" I was more than happy to abandon the sunny shore of California for the sweaty swamps of Florida. Damn, it gets hot here!
A few other folks have inquired about what was to be the next D.F.A. album, what happend to the songs that were completed for it? Well, as some of you may already know, I'd written thirteen songs myself, and two more with my guitarist, Chris McCarthy (Brett Eriksen's replacement), and they were brutally heavy and technical, much heavier and intense than anything on "Time Does Not Heal" or "Leave Scars". I still have these songs, and hopefully within the next year, time permitting, I'd like to record and release them myself. I just need to find a good ballsy singer.