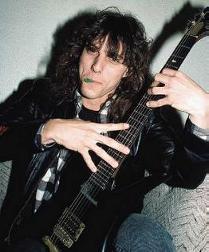 Mantas: the first step.
In 1983 the young Chuck Schuldiner, then 15 years old, decides to gather members for his first band. Assisted by guitarist Rick Rozz and drummer Kam Lee, he records a few demos under the name of Mantas which will definitively install bases for a new style. The young Mantas is influenced by bands such as Venom, Hellhammer, Slayer and Kreator, but Mantas is one of the very first American bands to evolve in this aggressive and gore style, closely followed by Possessed, Rotting Corpse and Necrophagia.
Chuck is only 15 and, although a little simplistic, these first demos recorded with Mantas will play a considerable role in the development of heavy-metal, and death-metal in particular. Death, from it's birth on, hasn't ceased pushing back it's boundaries in search of music containing the perfect mixture between violence and creativity. The band has a strong image, but unlike the many other bands of the time, Chuck doesn't show a lack of imagination and his view on society contrasts with other bands, which generally contented themselves spitting out brutality based on an absence of creativity, being restricted to follow fashion. Whereas bands kept repeating the same clichés of that period, Chuck chose to talk about the dark side of existence. And even if the first demo, of which some songs landed up on the first Death album, Scream Bloody Gore, or on Massacre's first album (band formed thereafter, by Kam Lee and Rick Rozz), talks about some of men's most bestial sides, very quickly Chuck himself will look into a much more subtle and profound vision of humanity .Under the name of Mantas, and thus accompanied by the same Kam Lee and Rick Rozz, Chuck will release several demos. The band's very first recording appears in 1983, and bears the soft name of Death By Metal. Four titles which, by the way, were immortalised in Chuck's mother's garage, on Rick Rozz' tape recorder. Among them " Evil Dead ", which will reappear thereafter on Scream Bloody Gore.

Death: the chaotic start
In October 1984, after having moved from Orlando to Tampa, Mantas brings out Reign Of Terror, a five track demo which will end up partly on Massacre's first album, From Beyond. Five months later, on March 9 1985 precisely, Mantas, who was able to record in a real studio for the first time, brings out its third demo, Infernal Death (which, in addition to the first track will appear on Scream Bloody Gore thereafter, contains three other tracks also on the album.) It will have been the first and last recording made under the name of Mantas. The first members of Death were Chuck and Kam Lee, accompanied for a while by the ex-Genocide, Scott Carlson and Matt Olivo. But Kam Lee's departure a short time later causes the withdrawal of the remainder of the band. Disgusted by the way things happened, Chuck leaves for San Francisco in September 1985 to join D.R.I.'s drummer, Eric Brecht, but their collaboration will turn out unfruitful. In December of the same year, Chuck returns to Tampa, in Florida. At that time the Canadian death-metal band Slaughter asks Chuck to take part in the recording of their first album. In January 1986, Chuck takes off for Toronto. After the recording, always eager to have his own band, he moves to San Francisco, where he meets drummer Chris Reifert with whom he records, in April 1986, the demo Mutilation.
A new style for a new world
In July of the same year, Chuck and Chris enter the studio in Florida in order to record the first Death album. Helped by producer Randy Burns, the two men work hard and quickly and record all the parts. While mastering the disc, Chuck comes into contact with a young Californian guitarist, John Hand, which will join the group. Chuck will even insist on putting John's photograph on the back of the album(whereas the musician hasn't recorded any guitar- riff!) Chuck will regret this when Hand announces his decision to leave the group right before the second album. Scream Bloody Gore is thus released in 1987. It astonishes everyone because it's a "première" for the American public which had until then never heard such heavy songs with so particular vocals. It doesn't go the same way in Europe, where the English Venom revolutionises the style with their first album, Welcome To Hell 1981, followed closely by the Swedish Bathory, then the Swiss Hellhammer with Apocalyptic Raids in 1984. In 1985, the German Kreator (former Tormentor) launches Endless Pain, characterised by the yelling vocals and Mille Petrozza's often high pitched screams. But Scream Bloody Gore is different. From the very beginning on, the first title, "Infernal Death", releases an enormous rage and bestiality, as well as a rather morbid perception of society. The band plays a brutal music, and is dissociated immediately by a rough and dirty sound which will be copied many times, but never equaled. Conceived like a horror-movie, the album represents a kind of voyage through the latter, without unpacking the habitual stereotypes .In fact, Chuck, whose principal source of inspiration are Italian horror-movies (in particular those of Lucio Fulci), draws from the latter the very crude and primary side of his lyrics. The title "Regurgitated Guts", for example, is inspired by the movie "The Gates Of Hell", "Zombie Ritual" by "Zombie", and "Beyond The Unholy Grave" by "Beyond". This first album is certainly, on its scale, a small revolution, and Death as well as Obituary, Atheist and Sadus, will take an active part in the development of death-metal.
1989: power and glory
Whereas on Scream Bloody Gore, Chuck is the only person in charge of the guitars, on the second album Leprosy (1988) he is helped by Rick Rozz. Chuck engages Terry Butler on bass (who will contribute later on to the creation of Massacre, then to Six Feet Under), and Bill Andrews on drums, Chris Reifert having left the band to create his own, Autopsy. Leprosy allows us to appreciate the growing attention paid to rhythmic parts, as well as vocal work, which lets us feel the band's musical development. The lyrics on this album are very different than it's predecessor's and suggests an thorough vision of society which will reflect a less gore image of the band. More powerful and more compact than Scream Bloody Gore, Leprosy marks the beginning of a long collaboration between Death and Morrisound Studio's situated in Tampa. A major step in Death's career is located at the release of the third album, Spiritual Healing, in 1989. This album is the first to reveal the melody and technical style in which the band will feel comfortable. Helped by a new guitarist, James Murphy, Chuck, consequently, will not cease showing that power isn't incompatible with melodic parts, and will make of his band, with the release of Spiritual Healing, one of the spearheads of death-metal, then in full development. This album is also marked by the arrival of producer Scott Burns, with whom Death will record three albums. If Leprosy marked a radical change on lyrical level , Spiritual Healing raises the level as a whole. Much more technical, better produced, and especially more refined, this third album contrasts with the basic stereotypes of death-metal and proves that death-metal isn't necessarily synonymous with brutality. Death had evolved from a young brutal band to an intelligent and technical band.
Human: the reference
At that moment Chuck decides to change the line-up massively. Death resting his only shoulders, he decides to recruit new musicians, in order to take up a new challenge. He therefore chooses Sean Reinert on drums and Paul Masvidal on guitar. They won't make it for long in the band and Steve DiGiorgio's (Sadus)collaboration will be definitely more profitable. Human, born in 1991, proves once and for all that Chuck Schuldiner is above all an excellent musician, his vision of the music going far beyond death-metal or any style in particular. Death is and will remain a precursor, and Pestilence's "Testimony Of The Ancients" (released the same year) proves it once more. Stronger than before of its new recruits, Death follows the way shown by Spiritual Healing, and proposes a music increasingly more subtle and inspired, which will, still today, make of Human a reference in the style. That same year "From Beyond", the first Massacre album (formed by the ex-members of Death) appears light-years away on the level of complexity and diversity compared to Human. Still not very commercial, the band however gets, for the first time, the opportunity to record a clip for " Lack Of Comprehension ", which finally makes it onto television. The instrumental "Cosmic Sea ", which can be compared to nothing else the band had ever composed before, propels Death towards new summits. As regards progressive death-metal, Human is always regarded as a reference, and settles Death definitively in its leading role.
Perennial Quest
After a "best of" released in 1992, 1993 represents the year of changes. Always assisted by the excellent Steve DiGiorgio, Chuck again decides, for the recording of his fifth album, Individual Thought Patterns, to change his team. Exit Reinert and Masvidal, and welcome Gene Hoglan and Andy LaRocque. Hoglan, "blitz"drummer (ex Dark Angel) and superstar on the matter, will record two albums with Death before joining Devin Townsend. Andy LaRocque, who played before with King Diamond, has since then returned to his original band. Individual Thought Patterns doesn't change much and perpetuates the quite particular style in which the band evolves. Thanks to Gene Hoglan's talent, Chuck can give more richness to his music and complicate it more and more. The album also marks the end of Death's collaboration with Scott Burns and Relativity Records for a collaboration with Roadrunner Records. In 1995, whereas the media focus on grunge and pseudo punk, Death decides to release a new "milestone" in it's career, Symbolic. Always assisted by Gene Hoglan, only survivor of Chuck's mood changes (whose immense talent and technical aptitudes made it possible for Death to develop even more), and Jim Morris, to which the difficult task of production is given for the first time, Chuck continues his quest in search of the best and realises a masterpiece of musicality. Eight years and five albums after the release of Scream Bloody Gore, Death is still alive, eager to break through the boundaries of death-metal.At the release of this album, the band finds itself free of any contract, and at that moment Schuldiner chooses to devote himself to his parallel project, Control Denied.

Out of control
Completely occupied by Chuck's side-project, Death remains stand-by. It's only in 1998 that the band releases its last album, The Sound Of Perseverance. The line-up again completely changed by Control Denied's Shannon Hamm on guitar and Richard Christy on drums. Control Denied's influence on this last Death album is undeniable and this album is probably the most technical and complex one of the band's discography. In 1999 The Fragile Art Of Existence, the only Control Denied album and last studio recording of Chuck Schuldiner, is released. Control Denied's origins come from Chuck's will to return to something more common, with a more traditional vocal style, done by Tim Aymar, while preserving the precision, intensity and complexity of Death. The album reveals the even more melodic and emotional side of Chuck and represents the musician's last studio testimony. (Apparently a second Control Denied album is to be released soon) The last official releases are two live albums (Live in L.A. and Live at Eindhoven) to collect funds to help Chuck in his ultimate combat. These efforts will finally appear in vain when on 13 December 2001 the father of death-metal takes his leave. In almost 15 years, 8 albums and gigs all over the world, Chuck Shuldiner, leader of Death, leaves behind a considerable heritage to the world of music, making of his death an inconsolable loss for the metal community.