Magazines:
Aardschok / Netherlands
Metal Maniacs / U.S.A.
Metal Hammer / Italy

Report: Dynamo Open Air May 29-30-31 1998
Death played on Sunday May 31


City: Eindhoven / Netherlands

Written by:
Aardschok: Robert Haagsma
Metal Maniacs: Jeff Wagner & Richard Christy
Metal Hammer: Alex Ventriglia

Published: 1998
Aardschok-Netherlands/Robert Haagsma

After the wild scenes during the performances by Coal Chamber and Life Of Agony, the DEATH show forms a great contrast. With appealing musicians in the past like Gene Hoglan and Steve DiGiorgio, there was always something to watch. Since Chuck Schuldiner has to pull the show by himself now, it has become quite tedious. As usual, musically considered nothing can be said at all about the performances of "Suicide Machine", "Spiritual Healing" and "Zero Tolerance". The songs are being played flawlessly, but the band (consisting entirely of members from Chuck's power metal project Control Denied) doesn't really take the effort to grip the audience visually.

Because the sound is very soft as well, and real contact with the crowd is out of the question, the reactions are quite half-hearted. Although a polite applause is being given for the musical performance, the Death show can't be considered very entertaining. Surprising are the two new songs, the first straight from the Control Denied demo. As is to be heard Death will be elaborating completely on the technical direction that already was taken with "Symbolic" and "Individual Thought Patterns" very successfully. Schuldiner's grunt is sounding strikingly less deep than in the past, whether or not it will stay this way will show on the new release in fall "The Sound Of Perseverance". Death remains brilliant, but just isn't a festival band.

Metal Maniacs-U.S.A./Jeff Wagner

Due to Fear Factory's cancellation only days before, Death was obviously psyched to get this nearly-headlining slot. Playing to almost 25,000, it was only this incarnation's third show together, resulting in an inspired, urgent performance as obvious numbers "Pull The Plug", "Suicide Machine", and "The Philosopher" were reeled off more than adequately. Though the gigantic stage size seemed to swallow the new members, resulting in a certain lack of visual presence, the performance was near-virtuoso, including percussion-lord Richard Christy. new numbers "Spirit Crusher" and "Flesh And The Power It Holds" ably proved themselves next to "Lack Of Comprehension" and "Flattening Of Emotions".

If anyone was looking for further proof that Deaeth is more a melodic metal band than e deathly one, "Zero Tolerance" and "Crystal Mountain" opened the gates to that debate. The long pauses between most songs brought down the drama a bit, but the set was suerly the band's official battle cry that they're back, as fierce as they've ever been.




Metal Hammer-Italy/Alex Ventriglia

Dynamo features no less than the return of Chuck Schuldiner's legendary Death, next to a new album on Nuclear Blast (that, according to what we heard live and to rumors, will be very guitar-oriented, with few changes from the old brutal style). Years have passed for Schuldiner too, going bald and hardly lively on stage, but the class is still here, and when he starts with flashbacks from 'Symbolic', 'Human' and 'Leprosy' everybody is astonished!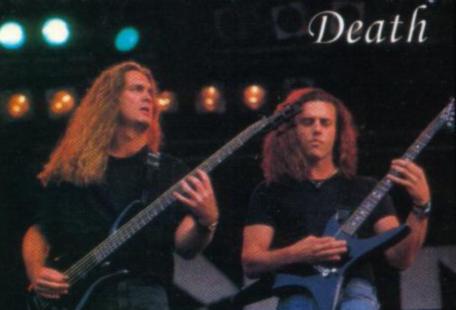 Metal Maniacs-U.S.A./Richard Christy


The Crowd went absoltely nuts for Blind Guardian. It was obvious from the audience's reaction that this band has an extremely loyal following in Europe. It was great seeing several thousands of fists in the air. Most of Blind Guardian's set was just as fastpaced as the albums, with some amazing double bass drumming and their typically melodic and catchy approach. I hadn't actually heard much Blind Guardian before, as their albums are hard to find in America, but I'm a big fan of German metal bands like Rage, so I too raised my fist high for the Guardian.
Stratovarius possessed a very big orchestral sound, mainly due to their amazing keyboardist Jens Johanssen (ex-Silver Mountain/Yngwie). The guitar/keyboard trade off solos were simply mindblowing. Stadnout track was definitely "Forever Free", with its excellent victory-style chorus and some massive drum fills. Although it was around 2:00 in the morning and the crowd was thinning out a bit, there were still many faithful headbangers present, sticking it out till the end.
The end being Primal Fear. Opening up with "Silver And Gold", I had no choice but to band my head in approval. Vocalist Ralf Scheepers was flawless, belting out great metallic screams. Every song from the self-titled debut was present, highlights being "Nine Lives" and "Promised Land". Primal Fear was tight, powerful, and a great way to cap off an excellent weekend.