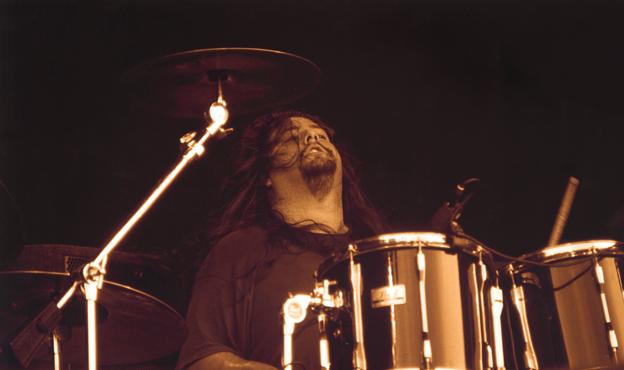 Magazine: Aardschok / Netherlands
Article: De nieuwe liefde van Gene Hoglan

Written by: Robbie Woning
Published: November 2002

The recently released CD of his new band The Almighty Punchdrunk, the upcoming Strapping Young Lad-album, the long awaited Dark Angel-reunion… Actually, there's always an occasion for a Gene Hoglan interview. Besides, the American super drummer is always full of interesting stories and anecdotes. For example, his current domicile Vancouver is, according to Hoglan, the 'burglary-capitol' of North America. His car has been broken into 13 times, once they even captured a box full of Punchdrunk CD's.
"There are many homeless people here and they steal everything they can lay their hands on. My car has an American license plate and apparently they conclude from it that I'm very rich. My van meanwhile looks totally battered, but luckily Vancouver also has very many attractive sides. It's a beautiful city, almost all my current bands reside here, and I made many friends over the last few years. Also the members of Punchdrunk, I've already known them for years."

The Almighty Punchdrunk originated in 1996, from the ruins of local bands such as Spleen, Process and hardcore pioneers Minority, and already released in that same year -without Gene- the album 'More Than Metal'. Hoglan met the band members just a year later, at the recordings for the Strapping Young Lad video 'Detox', for which the local scene-guru Devin Townsend invited dozens of friends and acquaintances.
"I just moved to Vancouver and pulled together the whole day with those guys. Afterwards I was invited to a show for their band, that was simply called Punchdrunk back then. I went without special expectations, but they completely blew me away that evening. Punchdrunk had great songs, consisted of very good musicians, and had a great energy. They turned the venue completely upside down. I instantly became a great fan of the band and later regularly jammed on a few songs with them live. When their drummer left due to personal problems, it went without saying that I offered my services. After all I already knew their songs by heart."

After Hoglan's entry the band soon started working on their second album. The Devin Townsend-produced 'Music For Them Asses' was already finished in 2000, but has just last month been released world wide by the German label Virusworx. Most striking about the CD is the big contrast between the tongue-in-cheek band name and lyrics, and the extraordinarily tight, extreme music.

"We are a super serious band", grins Hoglan. "The term Punchdrunk for that matter, has nothing to do with drinking punch. A punchdrunk is somebody who had too many punches against his head, and because of that is going through life kinda like a zombie. Maybe you've seen Mohammed Ali recently on TV? Well, that's the prototype of a punchdrunk. And because there are other bands walking on this world with that name, we later on added 'The Almighty'."

How big was your contribution on 'Music For Them Asses'?

"I co-composed on half of the songs and I wrote part of the lyrics. Although there's a lot of typical 'Gene-drumwork' on the CD, I tried to retain the style of the previous drummer as much as possible, because his way of drumming helped to define the sound of Punchdrunk. He often played i.e. heavy blast beats underneath very open guitar riffs. I thought that was beautiful and just imitated it."

Why is Gene already doing interviews, while he joined the band much later?

"Because Punchdrunk is a great band to which I will be devoted completely for the coming time. With Dark Angel I was the one doing everything for years. When the rest of the band was in the bar at weekends, I was at home writing lyrics. And when the others were chasing the girls on tour, I was in the tour bus composing riffs. I didn't mind back then. I lived completely for Dark Angel and I really loved doing those things. Yet it was nice with other, later bands, like Testament, Old Man's Child and Death to simply be the drummer of the band. That way I finally was able to perfect my style of drumming, that in the Dark Angel days still was very primitive and sloppy. I really lived to the fullest with those later bands, but I never had the responsibility for the music. However, The Almighty Punchdrunk is my new love. I want to tour a lot with this band in the future and I already wrote a lot of music for the next CD. Nevertheless, the coming time I'm completely in 'Strapping-land'. The new CD is almost finished. At the moment we're putting the finishing touch to the vocals. The new album was recorded in ten days. In spite of it, it's a very tight and extreme CD, compared to which 'City' is a pop album. When the album is released we first will be touring America together with Nile, Napalm Death and Voivod. After that undoubtedly, we'll be coming to Europe."
I sometimes wonder how you manage to keep up with this kind of busy schedule. Besides your current projects, you recently recorded an album with the Danish band Daemon…. Actually you always played in several extreme metal bands at the same time, in which the drum speed in the music often was inhumanly high. It is known that, because of your knees, you're walking with a cane for years now. Aren't you afraid that your overburden symptoms will be getting worse?

"No, because drumming is the best remedy against all complaints. Although I smoke a lot, and not take care of my health at all, I'm really in top shape. The first encounter with my doctor here in Vancouver was very comical. He said: 'sombody of your size and weight should be moaning and groaning all day, but your heartbeat is the lowest I measured today.' After I explained to him what I did for a living, he comprehended it better. The same doctor for that matter, used to play in a Judas Priest cover band. I now have to keep him posted of my activities all the time. But you're right: I'm always in several bands, and sometimes I actually drive from one rehearsal room to the other. And because of all that drumming I'm in excellent shape. I could run a marathon screaming, at the moment. My latest physical complaint is actually quite funny: since a while I regularly have a big lump with dried up fluid on my wrist. According to my doctor such a ganglion-lump can't do any harm and it could easily be removed. Byron, the Strapping Young Lad bassist, sometimes has to beat me with a book or a beer glass on my wrist for a quarter of an hour. And to my surprise that makes the lump disappear."
Gene doesn't want to know about taking things easier yet. Also with the reunion shows of Dark Angel, next November and December, he will be in on it.
"That's right. They wanted to book a dozen shows and I was still fully available for that period. My idea about reunions is openly known: I think they're ridiculous. On the other side, when a lot of people want to see Dark Angel one more time, I don't want to be the spoil-sport of course. Then I'll sit behind the kit and go for it. The other band members know where my priorities are nowadays. I warned them up front: you'll be getting a trimmed down Gene. I don't have time to do it all again. Which doesn't necessarily has to be a handicap. Not for a tour, and not even for a possible next album. I know that guitarist Jim Durkin already wrote new material. And although I composed a lot for Dark Angel, Jim wrote 70% of the material on 'Darkness Descends', and actually all classics are written by him. The set list during the tour? I think about the complete 'Darkness Descends' and a few songs from 'Leave Scars' and 'Time Does Not Heal'. For that matter, also requests from European festivals for Dark Angel are starting to come in. It could be that I will be in Europe half the summer with my bands."